Last week, I found some cute things at the Salvation Army…it can be dangerous working right next door!  I have few things to display for Easter decor so I wanted to create something…I found a cute gold wire basket…I didn't like the gold, but I am a bit of a sucker for wire baskets so I decided to add a little of this:
Seriously…I love spray paint.
And I also found some adorable chickies from Pier One at the thrift store as well…aren't they cute?
At 69 cents a pop, who could resist?  The tags
were still on by the way.
So I created a little child-friendly centerpiece for my table so my girls can have fun playing with the birdies:
Don't you think they are the cutest? 
Happy Easter decorating everyone!
Linking To: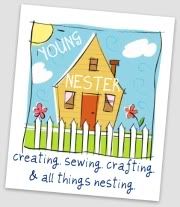 copyright 2010 Embracing Change at yourblogname.blogspot.com