I really like the color of my bathroom – we just painted it recently and I just think the color is perfect.  It is Sunken Pool by Martha Stewart.  It is a nice turquoise-blue and with the white trim, it just pops!  Fresh and clean!  Here is a recent picture of my bathroom:
If you notice, I have a white pie cabinet to the right of this picture.  This was my first official furniture redo!  Here she was before just for kicks:
I included the AFTER for fun…thank you Craigslist!
This cabinet holds all our toiletries and such.
Now to add some reds to our turquoise and white theme:
Scrapbook paper art
Scored a great lot of milk glass this weekend at church sales!  So fun!
?
Love those pennant flags (please excuse the real-life mess here)
?
Red burlap rocks
Don't be crabby
A little trinket
Lilacs are so yummy
To fully appreciate this shot, understand that for about 3 months, I had a gaping hole
above my sink with wires hanging out.  This is the new light fixture and it is
 finally up!  Ahhhhhh….it is so nice to have light again! 
My hubby is becoming quite the (reluctant) handy man, isn't he?
Turquoise and red is one of my favorite color combos!  It is bright and bold and I love the contrast!  Hmmm….what else can I add next? 
Linked To: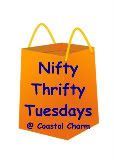 copyright 2010 Embracing Change at yourblogname.blogspot.com