I found a clever idea in Blogland which I decided to try this past weekend. As you know, I am a huge fan of paint. I am paint's biggest fan actually. So the thought of an idea involving paint and paint swatches appealed to me of course. Here are some other cute ideas I found on Pinterest:
Paint Chip Bookmarks
                                                           (bellacarta.typepad.com)
                                                                            Paint Chip Art
                                                                     (younghouselove.com)
                                                                           Paint Chip Bunting
                                                                         (omyfamilyblog.com)
Much to the Home Depot paint guy's dismay, there are so many things you can create!  So…this weekend during the storm I whipped up these babies…
Here's what you need
This was my first project with Mod Podge – whew…is it stinky!
A wide array of colors to choose from
I used four 16 cent tiles from Home Depot
This project is even kid-friendly!  Ana and Emma were able to help me.  At least,
 until they began to fight over the colors.
First, you put cut the paint chip to the correct size for the tile. 
Then you spread a thin layer of Mod Podge of
 the tile and place the chip on top.  Allow to dry a few minutes.
You then paint the top of the tile when the chip has been attached with
Mod Podge – coat
several times and allow coats drying time in between. 
A few minutes will do.  The Mod
Podge goes on thick and white, but dries clear and glossy. 
This is how you will know if it is dry.
The end result is quick, easy and cute…now I have some new coasters
for my living room! 
And my love for paint (and all the involving paint) lives on.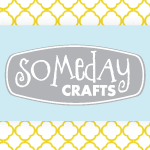 copyright 2010 Embracing Change at yourblogname.blogspot.com