I know it seems like forever since I have completed a project when in actuality it has been about 3 weeks!  My sense of time must be different than everyone else.  I purchased this adorable frenchy little nightstand the
She started out cute.  She could only get better!
Now that's what I call Frenchy awesomeness!
She's off to the Blessed Nest!
?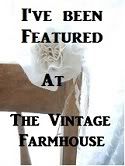 copyright 2010 Embracing Change at yourblogname.blogspot.com