Hi there!
If you have come to link up your creation at the

Inspired Creations Linky Party

happening NOW, please click
 HERE – I am so excited to see what you have been creating!
OK…moving on to the next order of business…
I have two makeovers to share tonight with you!  First is a makeover of this cool antique desk Chris and I purchased a decade ago while antiquing outside of Gettysburg, PA very early in our marriage.  We were able to actually go to antique shops then and browse as it was "BK" (Before Kids).  Now if we attempt this, you would be able to hear us a mile away … "No!"  or "Don't touch that!" or maybe even "Please don't fool around in here girls!"
Kids undoubtedly do change some things. 
It has been made new and I would love to know what you think!  I am guest posting over at Hooked On Decorating Friday with this redo so click
HERE
to go see what it looks like now!  And show Carrie some support as well – she is relatively new to blogging and really has some very cool creations!  Follow her! She is a real sweetheart!
Now, for the second makeover…
Here is the desk in it's before state.
It was already cute and I debated NOT painting it, but I just love painted furniture so I went for it.
A cute writing desk with great lines.  I debated on what color to paint it.  Color speaks to me.  I adore color and lots of it! However, I thought this piece needed to be more understated and sophisticated.  I decided to go with Annie Sloan's Aubusson Blue Chalk Paint.  It is a stunning color which I haven't actually used often so it was the perfect choice. I added some Annie Sloan's Dark Wax to age it a bit and give it some definition. I adore that wax – it does amazing things!
I am happy with the choices I made:
She is all gussied up now and looking fine!
What do you think I should name her?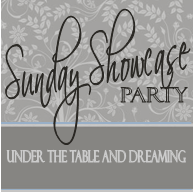 copyright 2010 Embracing Change at yourblogname.blogspot.com