Today we have our last guest post here on
Embracing Change for the week!
Chandeen is the sweet girl who offered to guest post for me when I threw out the offer last week…how cool is that?
I am happy she is here and I think you will like her idea.
So….let's get on with it shall we!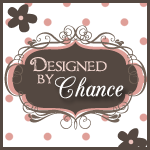 Hi!  My name is Chance (actually it is Chandeen, and Chance is my nickname) from
Designed by Chance
and I'm really excited to be guest posting today.
That's me.  I'm a little camera shy and not photogenic at all, but this shot works alright.
So … I saw something on Pinterest (but lost it) and it inspired me to try something similar.  I made this:
It is a record of all the paints colors in my house in one easy spot.  It was easy to do too.
I was putting my paints away one afternoon while cleaning my basement and decided to do something with all my bits of leftover paint.  I have some paint left from each room, so it was not hard to make one stick for each room or project I made (hence the dresser stick in the front).
How did I make these beauties you ask?  Simple, first you have to drill the holes for the ring.  I used a simple drill bit.
Then just dip the Popsicle stick in the paint, let it drip a lot (because there will be a lot of paint on them) and then let them dry on an angled surface (to keep the paint from sticking).
I then labeled each stick with the room or project and on the back, I labeled the name of the paint.  I always use Sherman Williams (it's a long story) so I know where to get it.
I attached the ring and now I have a collection of paint samples that I can throw in my purse and take with me where ever I go.
It is a simple project but oh so useful.
I think that is a fabulous idea and I need to do just that with my paint collection!
So happy for the new idea to tuck away for later :o)
I suppose vacation is over.
Back to the grind tomorrow for me.
Creative Inspiration Linky Party features will be up tomorrow!
copyright 2010 Embracing Change at yourblogname.blogspot.com