Do you recall I posted about this wicked cool desk I found at a yard sale the other week?
Quite a beauty and bargain at $15. 
I drove by this pretty desk and spotted her. 
I hit the brakes and did a quick U-turn. 
I loved her before I knew her price. 
Funny thing is there was a young boy there (maybe 10) trying to sell her to me.  Funny boy.  What he didn't know is that she was already purchased in my mind.  He said in an exasperated fashion as I picked her up later in the day "We are just glad someone bought it because we didn't want it sitting around anymore."
The truth is that most people do not always see what I see.
They see an old ugly desk missing a pull that  is a waste of space.
I am thankful for the ability to see past the surface appearance of a pice of furniture into the potential of what it could be.
We DIY'ers and makeover artists have this amazing gift.
This desk was in excellent shape and upon inspection, I noticed her Bassett Furniture tag.
She was mising a 5 inch pull and I knew I wouldn't likely be able to find a match for her original hardware so I implemented Plan B.
Knobs from Anthropologie.
All she really needed was little sassified…
And that, my friends, is a tale of a beautiful gal that simply
She is headed to The Blessed Nest for sale!
Creative Inspirations Linky Party features will be up tomorrow morning! Stop back to check out some creative genius!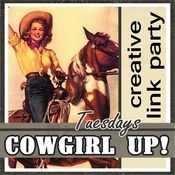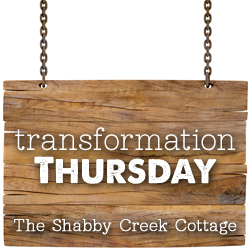 copyright 2010 Embracing Change at yourblogname.blogspot.com