I always hesitate every year when putting up the Christmas stockings.  The reason being is that every year,
none of the stockings match.
Yes, I am a decorating snob sometimes.
My husband thinks I am silly.
So…rather than sweat over mismatching stockings, I made some that match and look cute on my Christmas mantel. 
Here is what I did…bear in mind I am not type A.
First, I used a stocking as a model.  I laid it on top of the burlap and traced around it in chalk.
Then I cut around the line to get the stocking shape.  You will need two  pieces of burlap for one stocking.  Lay them one on top of the other – they will likely not match exactly which is fine. 
At this point, I used my glue gun to seal the sides.  Once dried and cooled, I stuck my hand into the stocking and grabbed the bottom and turned that stocking inside out thus putting it right side out .  I turned down the top of the stocking to create a cuff. I had to fiddle faddle with the tips of the stocking a bit and trim it down somewhat and then reglue it, but ultimately it was easy and turned out fine.
Now you may embellish with ribbon, string, buttons or
I cut out circles from red burlap and stenciled the first letter of each of our names on it so we knew who had which stocking.
I also added a ribbon to the inside so I could easily hang it.
This was an easy and fun project.
It took very little time and I had all the materials on hand.
Obviously I am not having my typical linky party tonight. 
I have moved it to Saturday this week as I host the first part of an awesome holiday link party beginning Saturday! 
Come back then to link up your

CHRISTMAS MANTELS

!  I am hosting this party alongside 9 other fantabulous women to celebrate the holidays!  I will post the line up tomorrow along with links to the other gals blogs so you can check them out ahead of time!
This stocking project is just a piece of my Christmas mantel.
I can't wait to show you the rest.
See you Saturday!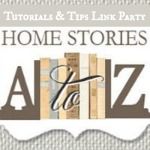 copyright 2010 Embracing Change at yourblogname.blogspot.com