Oh I can hardly call this a tutorial, but I will anyway.  It is such an easy craft.  All you need is twine or string, a glue gun and upholstery webbing such as this:
I picked up a few yards at a flea market this summer and I knew I would use it at some point.  It is something that can can be used for many purposes such as for the banner I am about to show you.
I used this banner on my Vanentine's Day mantel which I will show you tomorrow, but for now, here is my banner.
Love the rustic charm it gives.
I love banners and I wanted to create one for my mantel so this webbing was perfect for it.
It comes in a roll so all I did was cut squares from the webbing about 3 inches long.  Then I cut out a V-cut so that each pennant looks like a flag.
Just need to be sure the V is cut in the center.  I folded my flag to crease it so I knew where to cut.
This is the hardest step :o)
Now that we are past the tough part, we can move on.
Find some twine (or thin ribbon if you prefer) and cut a long segment.
Use your glue gun to put a thin line of glue on the top part of the flag as shown:
Gently place the twine on the glue strip – be careful – hot glue is not your friend.
Decide on how far apart you want to space your pennants and then continue to glue them on.
Tomorrow I will show you my whole Valentine's Day mantel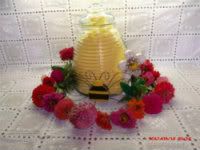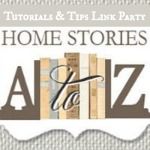 .
copyright 2010 Embracing Change at yourblogname.blogspot.com