I spent time working on decorating my front porch for fall today – fortunately the weather cooperated.
We rent a townhouse and we love where we live – the neighbors are nice, the streets are quiet and the house is perfect for us.
We love renting, too!
It has been a blessing to live where we do.
Our front porch is pretty small, but I am happy that I have a little porch and that it is covered.
It is very workable and for that, I am thankful.
Here is the view from the front:
Sorry for the lousy picture and the glare, but you can see how I decorated up my porch.
It is a small space, but I think it works perfectly well.
You have to work with what you got!
I love to use my chalkboards to decorate for the seasons.  They are so easy to make!
The stool is a purchase I made at Luckett's Spring Market.
It is stinkin' cute and oh so chippy!
My stacked pumpkins have a nice home there.
I added some pretty chevron ribbon to my pumpkins, too.
I added some orange mums which are my absolute favorite color of mums!
I added some rustic elements – chippy shutter, wood boxes and an old
egg basket fulls of pumpkins and gourds.
The key to maximizing space on a small porch is to work UP.
Use all the space you have and be sure not to waste your vertical space.
I used shutters and a tall chalkboard to give my decor some height and layered many items as well.
Much can be done with just a little space…you just have to be creative.
I added another chalkboard I made on an old tin from Goodwill as well as a cute felt banner.
I also crafted a festive burlap wreath for the occasion.
I had several yards of this amazing orange burlap and I think I was able to put it to good use.
If you like it, you can easily make your own…HERE is the tutorial.
I love the pop of color it adds to my deep green door.
I love it!
Hope you do, too!
Are you decorating your outdoor spaces for the season?
 Sharing this post with: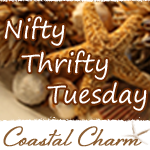 Home Stories of A 2 Z