I purchased this very pretty desk from a friend….I loved the shape and style and the pulls were awesome.
I just wasn't so sure about all the heavy wood grain going in so many different directions.
I thought that strange.
I thought this would be a perfect painting project!
I was craving color so I chose to go with a bold red from Valspar called Rum Runner.
It was just the right color for this beauty.
I painted a gazillion coats (translated that means about 4) as when you work with red, you are really WORKING with RED.
I think the end result was worth it though!
I sealed this piece up with Country Chic's Natural Wax and it gave it such a smooth sheen – she is just lovely!
Some days it's good to feel red.
Linking To: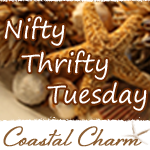 Home Stories of A 2 Z