I wish all pieces that I purchased to redo were this beautiful right from the start.
9 times out of 10 they are not, but this one was one of the few that was pretty when I picked it up.
The top was pretty scratched up and did require some sanding, but the body of the buffet was in fabulous shape.
My heart always goes pitter patter for French Provincial pieces and when I saw this beauty, I was completely smitten.
Her lines, her curves, her hardware…sigh.
I couldn't wait to get my hands on her!
Funny story…when I went to have a look at this piece, I loved her right away, but I couldn't take her home that day.
My fingers had 12 stitches in them at the time and I couldn't lift or load.
I paid the sweet woman for the buffet and planned to send my husband back the next day to pick it up.
He loves me.
I felt a twinge of anxiety about leaving this piece in the event someone else may snag her.
After all it was through a Craigslist ad that we met 🙂
You just never know.
Man, I just sounded JUST like my mother!
So, I took all the drawers home that day…..er…..just to be sure no one else would get to it.
It was like insurance.
I figured no one would want a buffet without the drawers so I was safe!
Yup, I'm a nut.
It all turned out fine and I don't know why I was worried as the seller was super sweet, but honestly, competition is tight for
pieces up in this county in which I live.
You almost have to know how to play the game.
I have learned too much over the years to not put into play what I had learned.
I have had things sold right out from under me many times.I was not going to lose that gorgeous piece!
I debating telling you that story…do you think differently of me now???
So … I brought her home and spent time thinking about my vision for her and how I wanted to stage
her and such before I made a decision on the color I would go.
She was to be a milk-painted beauty.
I just knew it.
I chose to paint her with Miss Mustard Seed's Milk Paint in Boxwood.
I added the bonding agent, too just to be sure the
paint would adhere how I wanted it to.
I distressed her an sealed it up well with a few coats of Miss Mustard Seed's Hemp Oil.
I think she wears milk paint well…don't you?
She is simply stunning in all her Boxwood glory.
I wish you could run you hand over her…she is smooth as silk.
I can see her all gussied up for Christmas now …can't you?
I delivered her to the shop Fresh Vintage by Amy in Strasburg where I have a few of my pieces…
if you are interested and local to the Lancaster area, she is available for sale there for $395.
Check out my Facebook page at The Blessed Nest to see more of my pieces that are for sale 🙂
Sharing With: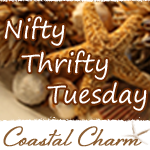 Home Stories of A 2 Z